AUTOMATION SYSTEM:
Fill & Dispense
Automated fill and dispense systems have become a crucial tool for many modern manufacturing and production applications.
At Intec Automation, Inc., we specialize in the design and manufacture of custom automated fill and dispense systems. We have extensive knowledge in dispensing technology and requirements, such as ensuring sterility, dispensing at consistent volumes, and adjusting for the unique properties of the product being dispensed.
We can create systems for a range of products and applications for customers across the globe. Our extensive automation equipment knowledge enables us to deliver solutions that enhance the value of their processes and optimize their capital investments.
Whether you need an adhesive dispensing system for your industrial manufacturing process, or precision drug or reagent dispensing for the medical and pharmaceutical industry, Intec can design and build the perfect automated solution. To learn more about our custom automated dispensing and filling systems, contact us today!
ADVANTAGES OF AUTOMATED FILL & DISPENSE SYSTEMS
The automation equipment experts at Intec offer systems for various filling and dispensing operations, including:
Fluid dispensing systems for reagent testing (e.g., COVID-19 PCR tests), drug dispensing (e.g., test tube filling), and vaccine dispensing (e.g., vial filling)
Adhesive dispensing systems for depositing two-part epoxies and UV-cured adhesives
Powder loading and filling systems for ultra-precision and anti-static operations
Product-to-box/bag filling systems for packaging applications
Ball bearing dispensing systems for quickly and repeatedly dispensing ball bearings
Regardless of the type of system or intended application, all of our solutions are built for superior performance. We carefully design and build them to help companies streamline their operations, which can lead to many benefits, such as:
Increased precision, accuracy, and quality: Automated fill and dispense systems eliminate the risk of operator error. They also can be manufactured to deliver consistent volumes at high production volumes and low cost.
Improved productivity: An automated system can work at a faster pace with more uptime hours.
Reduced risk of contamination: Automated systems minimize the chance of product contaminations, making them ideal for use in cleanroom environments and other highly sensitive operations (e.g., drug, reagent, or vaccine dispensing and testing)
APPLICATIONS OF AUTOMATED FILL & DISPENSE SYSTEMS
Businesses across a wide range of industries utilize automated fill and dispense systems in their operations. Some of the industries that regularly use the equipment include:
MEDICAL
In the medical industry, automated fill and dispense systems can be employed for drug compounding, pharmaceutical product packaging, capping and labeling, prescription dispensing, and product storage and retrieval operations. Implementing them properly can increase medication adherence, reduce medication errors, and improve filling/dispensing efficiency.
LIFE SCIENCES
Automated fill and dispense systems are often utilized in testing operations within the life sciences industry. They can add specific amounts of compounds (e.g., drugs, reagents, vaccines, etc.) to test tubes, resulting in more accurate and precise results. The technology has proved extremely useful in PCR testing applications throughout the COVID-19 pandemic, where it is reliably employed in cold and cryo environments.
HI-TECH
Companies across the industrial and commercial sectors have turned to automated fill and dispense systems as a high-tech solution to improve workflows and increase safety/quality.
AUTOMOTIVE
In the automotive industry, automated fill and dispense systems are used to apply numerous compounds, including adhesives, coatings, oils, and sealants, during manufacturing and assembly operations. They help businesses reduce waste, ensure quality, and improve productivity. Some systems have specialized components that offer advanced features (e.g., UV sensors for detecting dyes) to ensure proper application.
FOOD & BEVERAGE
Food and beverage production companies often integrate automated fill and dispense systems into factory lines to facilitate product portioning operations. The systems ensure proper distribution of ingredients and reduce the risk of human contamination.
DOOR & WINDOW MFG
In most cases, doors and windows must be strong, durable, and attractive. That's why many door and window manufacturers use automated adhesive dispensing systems and automated sealant dispensing systems, which ensures strength and quality of the finished product.
PACKAGING
The packaging industry employs automated fill and dispense systems for various operations. The equipment can be used for dispensing product, sealing and labeling packaging, adding barcodes, lot tracing info, and more.
CONSUMER PRODUCTS
Automated fill and dispense systems are used to create a variety of consumer products. Examples include appliances, automobiles, cleaning solutions, beauty products, food, and prescription medication.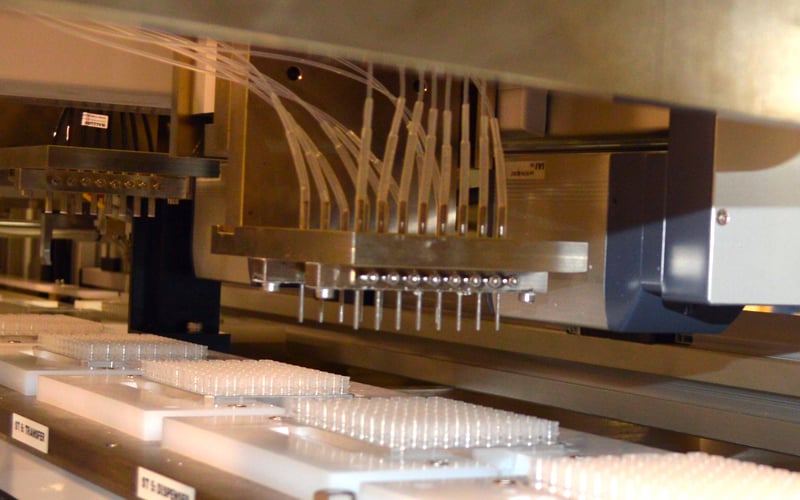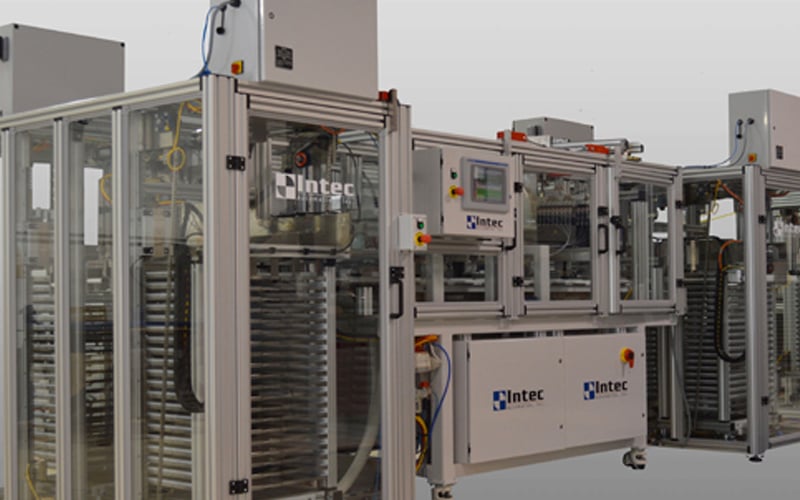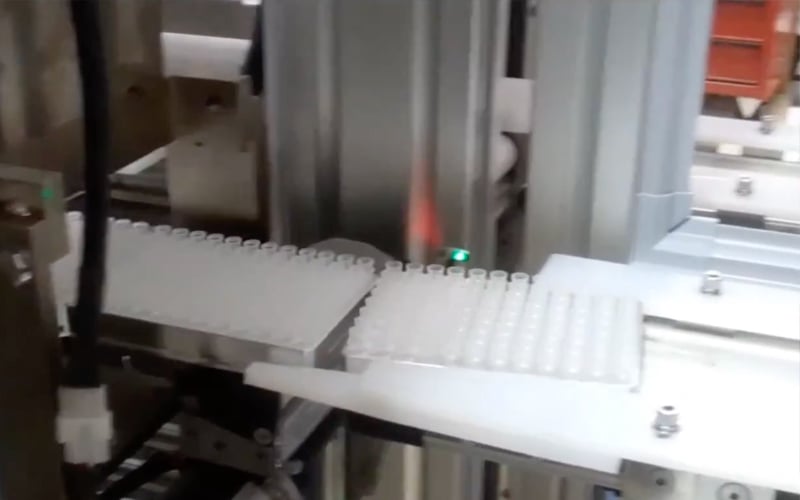 Automated Filling & Dispensing Systems
PCR Tube Solution Filling
Adhesive Dispensing
Powder Loading and Filling
Product to Box Filling Systems
Automatic Ball Bearing Dispensing
Test Tube and Vial Filling
A Variety of Fluid Dispensing
Process Integration Expertise
Capping
Labeling
Dispensing
Inspecting using Vision and Sensors
Pieces and Part Feeding, Orientation, and Escapement
Vibratory and Centrifugal Feed Systems
O-Ring and Spring Insertion
Pressing
Forming
Hot Stamping and Laminating
Web Handling
Printing
Tape Application
Sealing
Industries We Serve
For over 20 years, we have been successfully designing and building clean sheet, custom solutions for manufacturers all over the world and in many different industries including but not limited to Medical, Pharmaceutical, & Life Sciences, Automotive, Aerospace, Defense, Hi-Tech, and Consumer Products. Some of our areas of expertise include the following: